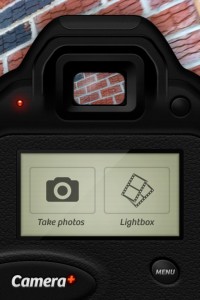 Camera+ ($1.99 USD) has quickly become one of the most popular iPhone photography apps to be released.  Most phone cameras are decidedly lo-fi and apps like these make the most out of those tiny cameras.  You can take something lackluster and turn it into a cool image.  The ability to get the shot, make edits, then get it out on the web directly from the device really makes it easy to be creative.  Pro Photographer Chase Jarvis said it best: "The Best Camera Is The One That's With You™".  Now the iPhone 4 is out with it's excellent camera and these apps are becoming even more popular.  The success of these apps has sparked the iPhoneography movement.  It's essentially become the digital version of Lomography.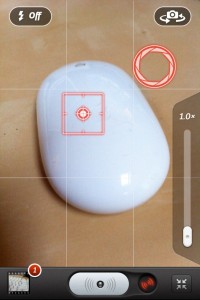 The Camera+ app itself is very good..  It's interface is very intuitive and the selection of Scenes, Crops, Effects and Borders are plentiful and easy to use.  The ability to tap and hold one spot to lock focus then use another spot to adjust exposure is fantastic.  The "image stabilizer" is another great feature and works really well.  It uses the iPhone's accelerometer to detect movement then takes the shot when your most steady.   After your done with the image, you can easily share images to Flickr, Facebook, Twitter or Email directly from the lightbox.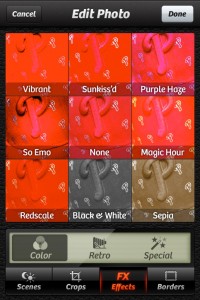 I do have a couple of issues with Camera+.  The main one being that it doesn't save the original image when you go to save an edited image.  Once the image is edited and saved, you can't go back to the original.  I wish it had some way to do a "save-as".  You could take the original image, save it to the iPhone's camera roll, make a duplicate then go back into Camera+ to edit the duplicate.  But that's just annoying and a waste of time.  The one feature a lot of users would like to see is the ability to use the iPhone's volume buttons to take a picture.  I'm sure these fixes and features could be easily added…but that's where the story goes awry.
Read on…